Interview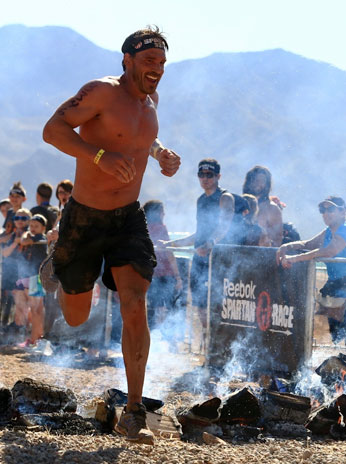 Jeff, what is your background in the fitness industry?
I started training people when I first moved to New York City back in 1994. I moved to the Big Apple to pursue a modeling career, though had always been into physical fitness as well. I figured it was a great way to explore my passions at the same time, and get paid. The two career choices actually complimented one another by allowing me the freedom and flexibility to do both. The key for me is to find things I enjoy, and then make exciting careers out of them. The financial rewards are just a bonus. No question, money will always come when you are having fun and good at what you do. This is why I'm a big believer in following your dreams, because with the right guidance, determination and timing, those dreams will turn into goals, and soon a fun-filled reality!
How long have you lived in Las Vegas?
My wife, Priscila, and I moved to Las Vegas about 20 years ago. We originally flew in town to look at potential rental properties, but after one short weekend, both of us fell in love with the Green Valley area and decided to make Henderson our primary residence. We still travel to our property in Scottsdale often, however are happy to call Vegas home.
I understand you have done some high-profile modeling?
Yes, I feel pretty lucky to have had such a successful fashion career. I modeled for many top clothing companies such as Ralph Lauren, Nike, Calvin Klein, Adidas, Versace, Chaps, J. Crew, Tommy Hilfiger, Joe Boxer, Dockers, Abercrombie & Fitch, The Gap, Reebok, Harley Davidson, etc… I have been on Men's Health and Men's Journal covers, as well as Polo Sport underwear boxes and billboards. I was even featured on the front cover of GQ Magazine with supermodel Heidi Klum. Great memories indeed. It was kind of like a paid vacation. I was able to travel the world, see different cultures, while meeting wonderful people along the way.
Do you have your own gym, or do you train at clients' homes and gyms?
I train my clients at many different locations throughout the valley. I am a certified personal trainer and group fitness instructor at gyms and hotels in Las Vegas, as well as at my own My Model Body
®
studio. I also enjoy training at my clients' homes whenever requested. This is what makes my job so fun. I drive to multiple places every day and am with amazing individuals from all walks of life.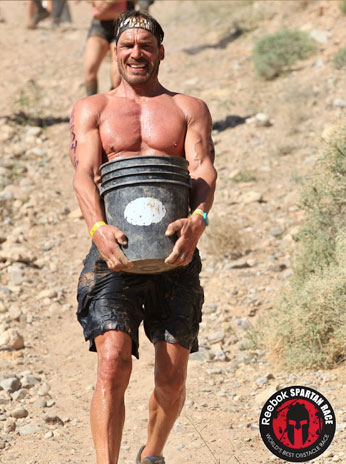 I understand you train a variety of clients from entertainers to MMA fighters?
Yeah, that is why I truly love what I do. I am an All-American athlete and I get to train all types of cool people. They range from high school kids and college students to doctors, nurses, lawyers, singers, dancers, boxers, federal agents, teachers, military service men and women...and the list goes on! I think I am most known for training actors, musicians and MMA legends, but the variety is what makes this career fun!
What separates you from other trainers?
I feel my niche is my enthusiasm, motivation, and caring personality. I do my job with 100% passion and commitment. Every client I have ever had knows this to be true and expects this from me, just as I expect greatness from them. I want to be a leader in life and have a positive influence and impact on those around me. Attitude is everything! I talk the talk AND walk the walk. It's not very inspiring to have an out-of-shape, depressed and boring trainer. Listen, being optimistic and excited about life doesn't come and go once you leave the gym. You must become a well-rounded individual that wants to constantly produce extraordinary results. This is exactly why I work on every client's body and mind. Strong body, strong mind. I sincerely want them to be the best they can be, both physically and mentally, enabling them to live life to its fullest.
What is your training Philosophy?
To make exercise and healthy eating habits a way of life. Simple as that! There are no extremes regarding my training Philosophy. It really needs to be an overall lifestyle that can easily be achieved and sustained. That's why I don't believe in diets and quick fixes. The Team Monroe game plan requires you to commit to a life sentence of optimal physical fitness. This is balancing your cardiovascular endurance, muscular strength, muscular endurance, flexibility and nutrition. And of course, daily mental coaching because your brain is by far the most important muscle. The mind needs to be trained just like any other aspect of your body. If done right, you will continue to look and feel unstoppable!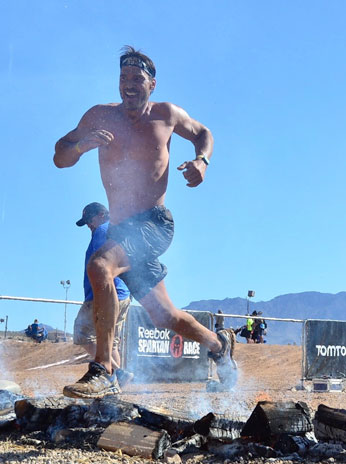 What are your fitness goals?
I have many short and long-term fitness goals. I want to continue competing in marathons, obstacle races, 5k charity events and Ironman triathlons. I am a USA Triathlon All-American. I am also a "GOLD" Ironman All-World Athlete, which is the top 1% in my age division. However, I would have to say my main focus is to continue educating our society on personal well-being, especially our youth through the Jeff Monroe Foundation. Children and adults need to mix daily exercise with healthy eating habits. Their food and drink choices are the keys to success. I get excited thinking about the opportunity to assist men and women reach their individual wellness goals.
What's your favorite treat?
I don't really have a favorite treat. Sure, I like cookies and ice cream on occasion, but I certainly don't crave that kind of stuff. Bottom line is that I want and choose to eat healthy. To me it's all about portion control, balance, moderation and consistency. It is what I attribute to looking and feeling my best. So if I want a treat, I will have it without any guilt or remorse. Remember, it's a lifestyle to my clients and me. I don't believe in cheat days, because it sounds as if you are on some type of diet the rest of the time, and we all know fad diets don't work. The agony of gaining the fat pounds back afterwards is unimaginable, a miserable way to live. That's why it's all about developing clean eating and drinking habits that will last a lifetime!
What is the most impressive success story experienced as a personal trainer?
The most impressive success story I have is in regards to all my clients. They are such unique and special people to me. No two are alike, yet they have all turned the corner in the way they think about exercise and nutrition. It's no longer work to them. None have gained fat weight back or simply quit training do to the lack of positive results. I am very proud of their achievements and look forward to seeing their smiling faces regularly. Confidence is very important. There is no substitute for having a high level of self-esteem and self-respect. What a journey it has been so far. Throughout these past 25+ years of training I have had the opportunity to change people's lives, as they have mine. I couldn't ask for anything more.
What is your favorite quote?
"PEOPLE DON'T CARE HOW MUCH YOU KNOW, UNTIL THEY KNOW HOW MUCH YOU CARE." This compassionate quote speaks for itself, and is what my personal belief system, MY MODEL BODY® Exercise Game and Non-profit Foundation is all about. Let's be real, the purpose in life is to selflessly give in order to make the world a better place. To challenge ourselves to have high standards, morals and integrity, which will enable us to make many admirable differences throughout our lives.
If you're ready to reach your fitness goals, make an appointment with Jeff today!
---